For all enquiries please phone 07780 542068.
If you would like to leave a message your call will be returned within 24 hours. Alternatively you can e-mail me on goldendancer8@yahoo.co.uk or using the form below.
Clinics
The WellBeing Clinic, 1 Windmill Road, Headington, OX3 7BL
Phone: 01865 751111
e-mail: info@wellbeingclinic.com
Phone calls are responded to on the same business day. Phone consultations are available for existing patients.
Consultation Fees
Concessions may be given when requested.
Reflexology treatments
Homeopathy treatments
First consultation
Adults
£75
Children
£60
Follow-ups
Adults
£50
Children
£35
A cancellation fee may be charged unless 48 hours' notice is given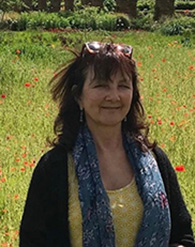 Elizabeth Austin

Elizabeth Austin has been very helpful in finding a treatment for my long term health problems. I find her to be a very intuitive therapist, who has a deep understanding of Homeopathy.
As somebody, who has seen many therapists, I am certainly very impressed with Elizabeth's practice and have recommended her to my friends and family.

Agnes